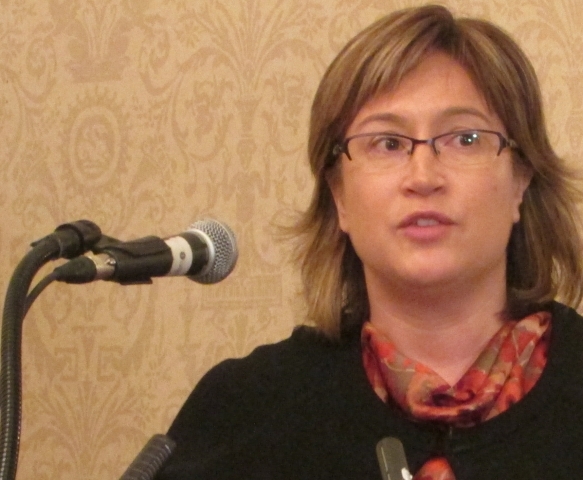 Geothermal energy offers a low-cost, clean and viable alternative to the $8 billion Site C dam proposed for the Peace River, according to a new report released Tuesday by the Canadian Geothermal Energy Association (CanGEA)
The report, Geothermal Energy: The Renewable and Cost Effective Alternative to Site C, estimates that geothermal power would ring in at about $73 per megawatt-hour (MWh). BC Hydro has estimated the cost of Site C at $83 per MWh. The report also says the proposed geothermal plants could be built for approximately $3.3 billion, less than half the cost of the Site C dam.
"Geothermal can be built as you need it, where you need it, and the capital costs are much lower," CanGEA Chair Alison Thompson told a press conference in Victoria.
The B.C. cabinet is expected to decide whether or not to proceed with the Site C dam before Christmas. The federal and provincial governments issued environmental assessment certificates for the Site C dam in October, but the project is facing five legal challenges and calls from local governments to delay the decision for a year while other options are considered. The dam would impact 13,000 hectares of agricultural land in the Peace Valley and is opposed by B.C.'s Treaty 8 First Nations.
Read DeSmog Canada's 12-part series on the Site C dam.
The joint review panel's report on Site C called the province of B.C. out for failing to pursue research into B.C.'s geothermal resources over the past 30 years. That report provided wind beneath the wings of the geothermal industry, Thompson said.
"Evidence at the Site C hearings created new urgency for the mapping work we had already begun," she said.
Now that favourability mapping indicates that geothermal can meet all of B.C.'s future energy needs, including the 1,100 MW of capacity and 5,100 gigawatt hours per year of energy that would come from the Site C dam.
"It's been convenient to dismiss geothermal," Thompson told the press conference. "This mindset around what people think geothermal is, it's just not true anymore. And so B.C. has remained on the sidelines over the past 30 years when 25 other countries have installed geothermal power plants."
Canada is the only country around the Pacific Ring of Fire that does not produce geothermal power at a commercial scale. (Read: 5 Reasons Why Geothermal is Nowhere in Canada.)
CanGEA's new report lays out 10 key advantages of geothermal when compared to the Site C dam.
Those include the generation of more permanent jobs (2,000 permanent jobs for geothermal vs. 150 permanent jobs for the Site C dam) distributed throughout the province and a reduced need for transmission upgrades.
"The $1 billion northeast transmission line can be avoided or delayed," Thompson said.
Thompson also pointed to a proposed geothermal power plant in Valemount, an area that consistently experiences brownouts due to its location at the end of a transmission line.
"That project provides base-load power for the area, provides economic stimulus and avoids the need to shore up that [transmission] line," Thompson said.
There are also opportunities to decrease the greenhouse gas emissions of the oil and gas sector by electrifying the region, displacing the use of fossil fuels at well sites, for instance.
Oil and gas companies have helped identify B.C.'s geothermal potential through their drilling in the northeast of B.C. Often the water and gas that comes up out of the ground is piping hot, which presents another opportunity.
"They could run that through a heat exchanger, which then can be sent to the power plant," Thompson said. "They can produce micro-power, enough probably for their own operations. They often, on purpose, cool the products before it goes into their machines. It's a win-win for everybody."
CanGEA is calling for a one-year moratorium on the final investment decision on Site C to allow time for further due diligence on geothermal. The industry group is also calling on the B.C. Utilities Commission to review its findings and make recommendations by November 2015.
"We're crazy not to look at this further," Oak Bay-Gordon Head Green MLA Andrew Weaver told DeSmog Canada. "The government has said many times that they want to protect the ratepayer … that requires them to look at geothermal. It would be irresponsible not to do it."
Photo: Alison Thompson of CanGEA.